Over 6,000 Wraps and counting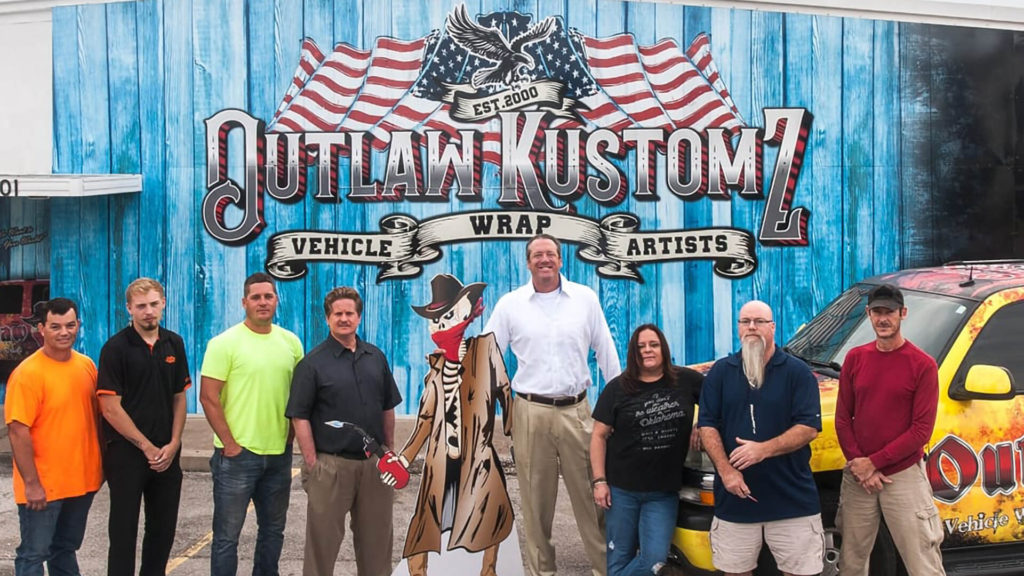 Welcome to OUTLAW KUSTOMZ Tint, Film, and Wraps. We are the premier designer, printer, and installer of Vehicle Wraps, Fleet Graphics, Paint Protection Film, Security Laminate, and Window Tinting in the Midwest. With more than 30 years of combined experience in the Tint, Film and Vehicle Wrap industry, we know how to make your business turn heads. Let us wrap your world.
We have many products to meet your graphics, marketing, and automotive needs. We offer:
Hi-Definition Vehicle Wraps
Branding and identity are the foundation to any successful business image and no one knows this more than our design team. We can help your company or organization with the design and installation of your vehicle wrap, helping your company achieve the greatest visual impact.
A recent poll shows that 90% of travelers notice graphics on wrapped vehicles. In addition, 75% of consumers form impressions about a vehicle based on fleet graphics. And fleet advertising is very economical compared to traditional advertising.
Reduce heat, UV rays, and glare just by tinting the windows on your automobile. You can also reduce the cooling costs on your house, business, or mobile home through window tinting. Also available is a safety and security film that can protect against glass breakage.
Outlaw Kustomz provides top of the line paint protection, headlight and tail light film for your car, truck, SUV, motorcycle, etc. Each kit is computer cut according to the vehicle's year, make, and model. It fits like a glove on the most chip-prone areas while preserving the value and beauty of your vehicle's finish.
Full Service Graphic Design
Outlaw Kustomz has the most talented team of artists and illustrators in all of Tulsa and can help you design a custom logo, business cards, and marketing material – and bring your marketing to life.
From full color banners to window graphics, wall murals to race cars, the full extent of our services is only limited by your open mindedness to our creativity. Call us at (918) 810-3929 or email to [email protected] to discuss your graphics needs.
what others are saying about our work
"Ryan and his team did an absolutely fantastic job placing stripes on my new Challenger. Most of all, it was the personal interest they took to make sure I would be completely satisfied that sold me. In addition, they spent about an hour showing me samples to choose from and gave me a interesting tour of the shop.. When I arrived to pick up the car, it was perfect in every way. The Outlaw Kustomz team even went the extra mile, wrapping the interior pieces and steering wheel, Ryan said 'it just wasn't going to look good right without it'… Hopefully he will post some pictures so you can see as well. Great job guys!!!"
"We had a show coming up in 3 days, and called Ryan at Outlaw Kustomz because I knew they were the best around. Ryan came out the next morning, took a look at our big van, gave some recommendations on artwork, and we had our plain white van transformed by late Thursday evening. Outlaw Kustomz totally came through on an impossibly tight deadline - I don't think anyone else could have done what Outlaw Kustomz did. The van looks AMAZING - if you aren't using Outlaw Kustomz to brand yourself - you are making a huge mistake."
"Outlaw Kustomz does a great job wrapping my pedicabs. When I want the job done right... Outlaw Kustomz is the first to call. Every sponsor/customer that has a pedicab wrapped through Outlaw Kustomz is amazed on how the Kustomz team can wrap a used pedicab and make it look completely new again..."